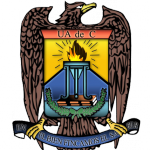 OFFICE OF THE GENERAL ATTORNEY
GENERAL ATTORNEY
Lic. José de Jesús Centeno Herrera
(844) 410-3696 | 410-4530
Edificio D Segundo Piso, Unidad Camporredondo
C.P. 25020, Saltillo, Coahuila.
MISSION

Defend the University's interests and preservation of the University's autonomy which procures and propitiates a legal certainty environment through legal counseling as a support team for the President, which provides orientation in terms of decision-making for several University departments, preventing and solving legal issues by abiding and respecting the law, the constitutional precepts and the university's law.




VISION

To promote the institution's development and strengthening with a complete legal system adjusted to the national and international legal framework, which frames, defends and preserves its interests, promoting an environment of responsibility and standards, which extends to the society; as well as ensuring that the fulfillment of the university's mission is developed granting the constitutionality and respect to the law, attribute which is the hallmark of this institution, without causing detriment to its autonomy.

PROCESSES

-Assorted consultancy.

-Legal advice.

-Verdict of projects.