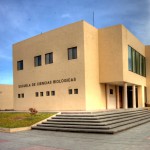 SCHOOL OF BIOLOGICAL SCIENCES
TORREÓN UNIT
DEAN
M.C. Ma. de Lourdes Froto Madariaga
(01 871) 757-1785
Carretera Torreón-Matamoros Km. 7.5, Ciudad Universitaria.
Ejido El Águila, C.P. 27276, Torreón, Coahuila.
HISTORY REVIEW

The School of Biological Sciences started its activities on October 15th, 1982, opening its doors to high school students with the desire to study areas related to chemistry, biology and microbiology.
On February 10th, 2006, the new facilities of the School of Biological Sciences were opened in the newborn UNIVERSITY CITY (CIUDAD UNIVERSITARIA), having 13 classrooms and 7 equipped laboratories. The school is located at kilometer 7.5, Carretera Torreón – Matamoros, in the town of "El Águila", to the east of Torreón, Coahuila.
BIOCHEMICAL ENGINEER

| | |
| --- | --- |
| | It is the professional in charge of developing, conducting and controlling industrial processes which involve biological systems, applying chemical engineering principles and methods in the elaboration of products, goods and services which contribute to elevate the standard of living of our society, improving their health conditions, their eating habits and the environment. |

MASTER IN BIOCHEMICAL ENGINEERING

Objetivos del Programa.

 

To form human resources with a high level of knowledge and current abilities who contribute with creative and innovative ideas to the development of new technologies to solve problems at a regional, national and international level, and at the same time, to the achievement of their own professional and personal goals.
To prepare personnel with ethical values who can develop original research and who are cable of generating new scientific knowledge with a beneficial impact on our society at a regional, national and international level in the areas of Biochemistry within the master's degree program.
To be professionals with knowledge, abilities, aptitudes and attitudes committed to the improvement of our society in a sustainable way.