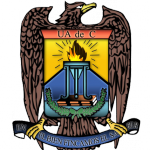 "PROFESOR URBANO RIOJAS RENDÓN"
HIGH SCHOOL
North Unit
PRINCIPAL
Ing. Manuel Velázquez Suárez
01 (861) 614-1848
Blvd. Adolfo López Mateos s/n. Nueva Rosita. C.P. 26800.
MISSION

We are a public institution which offers relevant and quality secondary and higher education, where the knowledge of science, technology and humanities is generated, disseminated, preserved and applied.

VISSION

The "Urbano Riojas Rendón" High School is an institution of international quality, socially responsible and committed to sustainability, whose students stand out for their academic, moral, cultural and sports formation. Its graduates preserve the sense of institutional belonging and are highly competitive and capable of integrating successfully into the global environment.

VALUES

Our values are tolerance, respect, honesty, commitment, solidarity, responsibility, justice and freedom.

OBJECTIVES

To improve the profile of graduation and the graduation rate of the students of our school through the implementation of strategies which are centered in teaching practice, in and out of the classroom. To improve the support activities to the educational teaching process in diverse areas and to improve our services.
"PROFESOR URBANO RIOJAS RENDÓN" HIGH SCHOOL
MUZQUIZ EXTENSION
01 (864) 616 6609
Prolongación Socorro s/n y Manuel Dávila Santos. Barrio La Cascada. C.P. 26340. Múzquiz, Coahuila.