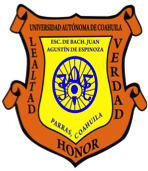 PRINCIPAL
Profr. Felipe Jaramillo Argil
(01 842) 422-0615
Calle Miguel Ramos Arizpe 114
Zona Centro. C.P. 27980,
Parras de la Fuente, Coahuila.
MISSION

The "Juan Agustín de Espinoza" High School is an education institution of the secondary level in the service of society, which offers quality and comprehensive education, developing competencies which are inherent in our high school students for the acquisition and application of knowledge, abilities and values which allow them to access higher education and navigate confidently in a globalized society as citizens with responsibility towards the environment.

VISION

provides relevant and quality education to its students. To have a staff of teachers who are organized in academies, with a high level of training; teachers who favor a comprehensive education in their students and the development of their inherent competencies and the use and application of the information and communication technologies (TICS by its initials in Spanish). To have modern and optimal infrastructure and equipment for the achievement of its objectives. It has an efficient administration in the service of the learning process and it makes the use of resources transparent, accounting for its actions with the society of Coahuila because it has a duty to it, and with Universidad Autónoma de Coahuila, because it is dependent on this institution.

VALUES

We foster, with a humanistic focus, the universal values which are associated with sciences, art and sports. We promote the next values: honesty, responsibility, freedom, justice, respect, solidarity, tolerance, commitment and dialogue as well as equality, quality and sustainability.

OBJECTIVES

Preparation in different disciplines such as science, humanities and technology; to provide general culture and vocational orientation towards a specific field which allows students to be admitted into the university, where they will perform in an efficient way.

To develop abilities, attitudes and values in our students which are indispensable in their formation, which allow them to make responsible decisions and be supportive with the environment.

HISTORY REVIEW

It is a public institution from Universidad Autónoma de Coahuila which is incorporated to the National System of High School as of March, 2016. It is dedicated to serve general high school students during the afternoon shift, with a duration of four semesters. It honors the memory of the Jesuit priest who founded the Mission of Parras in 1598.

The "Juan Agustín de Espinoza" High School was born as an extension of the Open Teaching Institute (Instituto de Enseñanza Abierta – IDEA) in February, 1981.

The authorization to function with the schooled system was issued on the date of December 12th, 1985. In that way, the first high school generation graduated in 1987.

It currently has 37 workers counting teachers, administrative and manual workers. It serves a population of 280 students distributed in 8 classrooms. The age of our students ranges between fifteen and seventeen.

Located in the heart of the colonial city of Parras de la Fuente, the building which houses the "Juan Agustin de Espinoza" High School is one of the oldest buildings which integrate the heritage of our university. It was built during the second half of the 18th century and it is considered a historical monument by the National Institute of Anthropology and History.

The institution is located in an area of 1960.00 square meters and it is integrated by two buildings. In one of them, we can find the classrooms and administrative offices and the other building consists of a laboratory for mathematics and multiple uses, a computer center, seven cubicles, a library, a cafeteria and restrooms. Each one of them has a yard. The land lot next to the second building is approximately 550 square meters big, it is roofed and it is used to carry out different civic, sports and recreation activities.