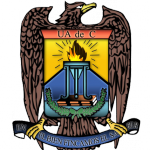 GENERAL SECRETARY
Ing. Miguel Ángel Rodríguez Calderón
(01 844) 438-1614 | 438-1615 | 438-1616
Rectoría. Blvd. V. Carranza s/n y González Lobo. Col. República Ote. C.P. 25280. Saltillo, Coah.
MISSION

Universidad Autónoma de Coahuila's General Secretariat has as its mission to promote and safeguard the harmonious coexistence of the university's community, history and heritage. It authenticates its documents and institutional processes and facilitates substantive activities, creating support, information and participation mechanisms as well as communication channels between students, teachers and administrative and University's government authorities. All of this, within a framework of legality, freedom, plurality and honesty, thus contributing to consolidate the university´s identity and the social commitment that this institution holds.



VISION

Our purpose is that, at Universidad Autónoma de Coahuila, an updated and modern legislation rules, oriented by the General Secretariat through the participation and consensus of all the university members; the regulations are currently relevant and agree with the university's dynamics. Its government organs center their activities strategically and decision-making is based on a long-term vision of the Education Policies of 2025. The harmonious climate that resides at the university allows to understand all the substantive activities with quality and efficiency. All the members of our university feel fully identified with the Institution's principles and mission, and are satisfied and proud to belong to Universidad Autónoma de Coahuila due to its national and international prestige.